Moving Out When a Relationship Goes Wrong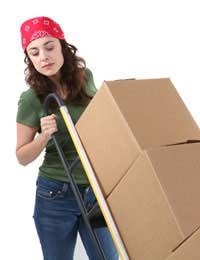 Relationships end for all kinds of reasons and under many different circumstances. No break-ups are ever easy especially when you're living together, and they are all very different and unique to the couple involved and though none are ever easy, some are less complicated than others. It's difficult to produce an article that can give you the definitive answers as to the best way to go about things as circumstances will differ for every couple but, hopefully, here is some general advice which should make things a little clearer and help to make the transition go more smoothly.
An Amicable Departure
These are always the simplest situations to resolve. It may well be that you both take an adult view that the relationship has run its natural course and that you have come to an agreement that one of you is to move out. No matter how upset you feel, the important thing here is not to get drawn into fights, slanging matches and harbour ill-feelings towards one and other. What your aim must be is to get out with the minimum of fuss and to ensure that you're not making life any more difficult than it is already for the person staying behind.
Once you have discussed the fact that one of you is to move out, you'll need to draw up some plans for any bills that the person leaving will still be liable for. In some cases, he/she may be able to settle all their share of impending bills before they leave but if that's not possible, you might need to agree to things such as sending copies of bills to the person leaving and to make arrangements as to how they are going to pay their share. It may mean meeting one final time or a couple of further phone calls to settle any remaining financial matters but you should be mature enough to cope with that. Once the formalities have been agreed, you should then move all of your belongings out as soon as possible. It's important that you take everything that belongs to you with you – don't leave anything behind as it sends out the wrong signal that you might be thinking of moving back in at a later time.
Obviously, in some cases, you'll have joint possessions. If so, the division of these need to be discussed when you're sorting out your bills obligations. If you trust the other person, it often helps both of you if you can arrange a mutually agreed time and day where the person leaving can be left alone to pack up their belongings and leave without the other person being present.
Complicated Situations
Not all break-ups are going to be as straightforward or as amicable as the situation above describes. If you are married and/or there are children involved or if you have joint ownership on the property or have a joint tenancy agreement, you may need to seek advice from a solicitor or, at least, from Citizen's Advice to establish your rights. This is not always straightforward or a formality so, if you find yourself in a similar situation, be sure that you seek advice as soon as possible and do not move out of the house before finding out your rights, unless you are in physical danger or it's simply impractical to remain there.
Where Children are Involved
You should try to keep any disruption in their lives to an absolute minimum. Discuss the situation with them at the earliest opportunity and do not speak negatively about your partner. Try to keep their regular activities and their day-to-day routines as normal as possible and when discussing things with them, keep it simple and stick to the facts. Don't be tempted to use your children as a confidante or encourage them to take sides as this will put them in an untenable position.
In essence, whilst moving out when a relationship goes wrong is never easy, the important things to remember are to try and do this as easily as possible for the both of you whilst, at the same time, ensuring that you establish your rights and put your children first. No matter how you're feeling emotionally, if you keep in mind that time is a great healer and that the more simple you make it for each other, the sooner you can both get on with your lives productively, the easier the transition will be.
You might also like...