DIY Removal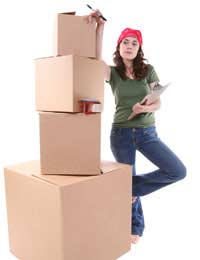 There are several reasons why people might choose to undertake a house removal by themselves rather than paying for a professional removal company to do the job. It might be that you're moving out of your parents house and only have a limited amount of stuff to take or that the cost of a professional removal firm is just too expensive. Alternatively you might just feel that things will be done more to your satisfaction if you take on the responsibility by yourself.
Whatever your reasons, the upshot is that whilst you're likely to save money on a DIY removal, that may come at the expense of all the additional work you're likely to have to deal with, perhaps relying on others to help and there may be costs associated with storage if you're not able to move everything in the time you've allocated. However, if you are determined to opt for a DIY removal and you cannot fit all of your possessions into a car or van, you'll either be faced with multiple trips which might not be practical or, alternatively, you'll need to consider the option of hiring your own truck.
Truck Rental
You'll be able to find numerous truck rental companies close to where you live who will be able to provide you with different sizes of trucks, dependent on how much you need to move. As long as you have a full driving licence, you're able to drive any vehicle up to a laden weight of 7.5 tonnes. Truck companies themselves are good at estimating the size of truck you'll need based upon the amount of possessions you need to move and it doesn't matter that you have no previous experience of driving a truck before as companies will show you where all the features are on the truck, e.g. the lights, indicators, window wipers etc., and, if you are somewhat apprehensive, they'll often even let you drive the truck around their yard for a while so you can get used to it.
Things to Consider
Once you have settled on the size of truck you think is best, if you know that the removal is going to take several trips, you need to work out how cost effective this would be as it may well be the case that, in the event of several trips (especially if you're moving a fair distance away), it will prove even more expensive than hiring a removal company overall. If you can, try to source a truck rental company that offers unlimited mileage if you think you'll be putting a fair few miles in. Insurance, however, is usually met by the insurance company although this is usually limited to the truck itself and not your possessions so you'll probably need to look at your own insurance provisions to see that you are covered for this. And, if you are travelling a long distance and only intend making the one trip, it may be better if you try to find a national company which allows you to drop the truck off at your destination otherwise you'll need to bring it back at the end of the rental period and then you'll also have to make arrangements to get back to your new home yourself.
Ultimately, it will be a combination of factors that will determine whether or not any cost savings you can make will be worth the effort against the additional work and hassle you might encounter if you decide to go it alone or with the help of a few friends. That said, in certain circumstances, DIY removal can be very cost effective and is a worthwhile alternative for many to employing the services of a professional removal firm.
You might also like...