Cleaning Your Home Before Moving Out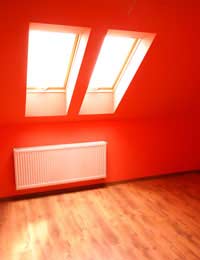 Whether you're moving out of rented accommodation or you're selling your house to move somewhere else it's good manners to clean your home from top to bottom before you move out. In fact, if you're renting your property, it may well be mandatory in order for you to have any security bond that you've put down repaid to you after you've gone. Even if you're selling your home, it's only courteous to clean your home as best you can before you leave. After all, you're going to be moving elsewhere and whether that's to go to a new property or not, would you like to turn up to your new place and find it filthy inside? Of course, not matter how well you clean it, the new occupiers will almost certainly wish to do their own cleaning when they arrive and, likewise, wherever you're moving to, you'll want to do the same. However, making the effort to clean your home before moving out is simply an accepted part of the whole process of moving from one place to another.
Planning the Cleaning
The easiest way to clean your house before you move is to have a plan and to tackle each job in a systematic orderly fashion. That way, you won't need to re-clean things on the final last day or two before you move out because they've become dirty again. The list below is a good format to follow for getting the jobs done in the most orderly fashion which should be sufficient for leaving your home in the way in which you'd like to find it if you were moving in. A productive way of doing this is to tackle each section over a specific day in the countdown to you moving out.
High Areas
Tackle the high areas first. Go around each room in turn and remove any cobwebs. Remove any glass light fixture covers and wipe down the fixtures and replace any broken light bulbs. Dust any fans and ducts and clean any vents. Dust the tops of all door frames, any tall ledges, the tops of curtain runners and any built-in shelves. Also ensure that you dust off any smoke or carbon monoxide detectors and that the batteries are working in them. Clean any extractor fans in the bathroom and kitchen and remove any signs of mildew on any tile areas in the bathroom and kitchen too.
Windows
A day should be set aside for cleaning all windows on the inside. Unless you use the services of a window cleaner, you'll need to clean the exteriors too. In addition to the windows, make sure all the sills are dusted and wiped down as well as dusting any blinds you are leaving behind.
Interior Walls and Exterior Areas
Spend a day wiping down all your interior walls and making any exterior areas ship-shape. You'll be amazed at how many fingerprints and how much dirt you'll remove from interior walls and doors and don't forget to include stair rails and banisters, the latter in particular can get very grimy. Also wipe down any wardrobes and cupboards you intend leaving behind. Then tackle any areas such as the patio and garage, sweeping and hosing down decking areas and having a general tidy up of the garage remembering to clean any windows and doors that they may have too. Also make sure that you've removed all your belongings out of your shed and that you give that a good sweep too.
Fireplace
This may be a simple or more time consuming job depending on what type of fireplace you have but, as a focal point of any living room, this should be well cleaned even if that just means a simple dusting and wipe down.
Oven and Stove
Next to tackle should be the oven and stove if that's staying behind and don't forget to clean behind it too. The oven should be thoroughly cleaned and once you've cleaned the hob, it helps if you can live without that for the remaining few days or, at best, only resort to using it for simple cooking where it won't need much more than a wipe over on the final morning.
Other Kitchen Appliances
If you're taking kitchen appliances with you, this won't matter so much, but if you're renting, you should next tackle the remaining kitchen appliances. Things like washing machines, dishwashers, microwaves ovens and toasters should all be left immaculate. Once you've done that, you'll need to defrost and clean any fridges and freezers.
Showers, Baths and Toilets
Because you'll be using all of these right up until the time you move out, you should leave this until the near the end. You'll have already removed mildew and cleaned any extractor fans earlier but now's the time to make sure that all showers, bath tubs and toilets are cleaned thoroughly and disinfected. It's also courteous to leave fragrances in the bathroom such as air freshener and toilet blocks. Don't forget to clean out the bathroom cabinet and to polish any mirrors.
The Day of the Move
On the final day, all the hard cleaning work should be done but don't think you can put your bleaches and polishes away just yet. Once everything is out and the removal van has gone for good, go around each room with a duster and a cloth with some warm soapy water and give all surfaces a final quick once over. Make a final clean of the sinks and wipe down the hob one last time if it's been used since you cleaned it. Then the last job you should have is to vacuum around the entire house and once you've done that, you should be done completely and can move into your new place knowing that you've left your old one in an acceptable and clean condition for its next occupants.
You might also like...