Best Times to Move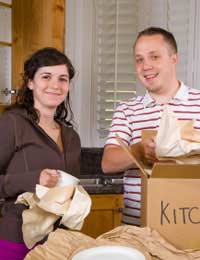 For many people they don't often have an awful lot of choice when they move home. A house move can occur for several reasons. Perhaps, you've been offered a promotion which means you have more money to buy or rent the place you've always wanted to or you might have taken a new job which means you need to relocate or maybe it's the right time to sell financially in order to maximise the value of your existing property.
On the opposite side of the coin, perhaps you can no longer afford to live in your present accommodation and are forced to downsize. Whatever the reason, you may not always have the 'luxury' of planning the exact time of the year in which to move. However, if you are fortunate enough to be in that position, there are a few factors which you might wish to consider.
School Calendar
There are different trains of thought as to when to move when you have children who are still at school. For some families, the school holidays are the ideal time to move from one house to another as it causes less disruption with their children's education, with summer holidays being the most preferred option. People who advocate this time as the best time to move will point to issues such as their children will have fully completed another year of school and with the end of the summer term and the longer amount of time off before the new term, it will keep educational disruption down to a minimum whilst also allowing their children the necessary time to say goodbye to old friends.
Conversely, however, there will be other parents who say that by moving a couple of months before the end of term, it gives their children the opportunity to settle into their new school quickly and to make new friends with which to spend time with over the summer. This, in turn, means that their kids are not getting under their parents' feet over the summer months as they go about settling in to their new home with all the unpacking and organisation that needs to be done.
Cost
Just like the holiday companies who know when to spot the opportunity to 'up' their rates, removal firms too know that the school holidays (and particularly the summer holidays) are ripe to push up their prices as their services are always in more demand during this time. Therefore, if you plan on moving in the summer holidays, it's likely to cost you more. Not only that, but because of the increased demand for removal services, you need to bear in mind that you're not always going to get the same level of service that you might otherwise do at different times of the year. Removal companies will often take on seasonal workers who are not used to working in the industry over the summer months to cope with the extra demand which might mean you get a less efficient service.
Christmas
Most house movers will tell you that it's better to be settled in to your new home a couple of months before Christmas and, if that's not possible, you should leave it until after the festive period. The reason being is that Christmas is a special time where it's important for all the family to feel a real sense of community and belonging and, by leaving a move too close to Christmas, it's far more difficult to establish new friendships quickly which could leave you feeling a little isolated over the festive period. The general train of thought would seem to be that unless you can move house a good few months before Christmas, you should stay put and wait until it has passed. Then, not only will you still be surrounded by those who care most about you in the run-up leading to Christmas, the Christmas and New Year holiday is the ideal time to throw a few farewell parties.
The Weather and Climate
Whilst this is often a secondary factor not considered too seriously by a lot of people when it comes to a house move, particularly here in the UK where the weather can be fickle anyway, some people will point to the Spring and Summer months as the best time to move as poor rainy conditions or the extreme cold of winter can often make a move more stressful, not forgetting that it can also have an impact upon causing damage to furnishings and other belongings.
Ultimately, however, people will usually have a number of their own specific issues and reasons which will affect the time of year they choose to move. The most important thing to remember is to choose an appropriate time, wherever possible, which will cause the least stress and disruption to you and your family and is something that should be discussed between the whole family in order to make the transition run as smoothly as possible.
You might also like...