Moving Home - Telling Your Children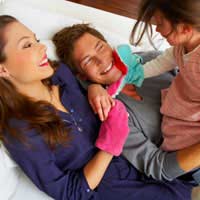 Moving home can be quite an ordeal and children can react to it in very different ways. Quite often there may be a role reversal in the different types of behaviour you might expect from your youngest child to a teenager and, surprisingly, it's often the teenager who will become stroppier and may even be highly emotionally affected by a move, whilst a younger child might seem to perceive it as an exciting adventure with lots of possibilities for exploring new places and meeting new people.
The fact of the matter is that there's no way of knowing just how your kids are going to react over a house move. You'll be the best judge of how to break the news to them based upon your understanding of their individual personalities and whether you'll choose to do it as a group announcement or you'd prefer to tell them all individually. Whichever method you choose to adopt, you should tell them as soon as possible though so that they have sufficient time to get used to the idea.
Telling Younger Children
With younger children, because they may not fully comprehend the ramifications of a house move in its entirety, they might have very different emotions from what you might have anticipated. Some might view it as a threat to the family as a unit. They might get confused and feel that family life is so intertwined with the house itself that moving away threatens to destroy the safety of the family too whilst others may view it as one great big adventure and a chance to explore new places. When breaking the news to younger children, the important things is to explain simply and clearly where you are moving to and why. An example for pre-school children might be, "Daddy's got a new job which is better than his other one but we have to move closer to where his new office is."
One of the key things is to always be upbeat and emphasise the positives about the move. Things like telling your children about how good their new school is going to be with an emphasis on things they are interested in like more football pitches, a better gymnasium facility etc will help to achieve that. If they're old enough to comprehend maps, it's a good idea to get them familiarised with their new environment by educating them about it before they get there. Get hold of a few photographs of features of the new community if possible – things like the school, library, local park, local swimming baths etc then you can have educational games with younger members of the family by writing the name of the road each feature is located on at the top of the photo then asking them to look at the map and to plot a walking route back to their new house. Not only will they want to impress you with their knowledge, it will also help them familiarise themselves with the community they are going to be living in and to focus on the things they are going to be doing rather than to get upset about the community they're going to be leaving behind.
Offer Reassurance
You need to keep reassuring young children that only the location and some of the faces will change but pretty much most other things will stay the same. You need to tell them that any pets will be coming with you and that they'll still be able to keep in touch with friends over the phone or by the internet and, if practical, that their friends can come and stay over at weekends from time to time and vice versa. Be prepared to answer any questions your children have and to answer them as honestly as possible.
Telling Teenagers
Telling your teenager you are moving home is often more difficult than telling younger children. Early teenage years are usually the period when peer groups start to be formed and where 'fitting in' is extremely important in an adolescent's perception of themselves and helps to determine their own sense of self-esteem. Therefore, to have to move to a new area and to try to that again starting from scratch can be very daunting to most teenagers no matter how confident they are. Once again, it's important to tell your teenager you're moving as soon as possible. Unlike younger children, with whom a week or two's delay in telling them, if necessary, for other reasons, might not be too much of a problem, any delay in telling your teenager may result in them feeling you have betrayed them, should they find out you were holding this information back later. As with younger children, you'll need to tell them where you are moving to and why you are going.
On the positive side, teenagers are much more likely to understand the reasons why you need/want to move. However, they're just as likely to come up with ten reasons against why you should move for each one of yours if they are stubborn and find it difficult to accept the move. It's quite proper and correct that you should sit down and discuss all of the issues with your teenager and to let them put their points across and to treat their views with respect. However, you will have probably thought long and hard yourself as to the reasons you're uprooting the family at this time, so this is no time to show weakness. Therefore, no matter if you're faced with protestations such as "I'll stay here at Gran's house then", or "I'm not moving", and no matter how much petulant behaviour you may be on the receiving end of, be firm and be strong and, in the end, your teenager will have to come around and accept the inevitable.
Once again, just as you did with your younger children, only this time on a more adult level, try to find out as much as you can about the new community and to relate that to the interests and hobbies of your teenager. If you can 'sell' the new community to them over time, their objections will start to recede and they'll start spending more time being focused on the opportunities the move presents as opposed to dwelling on the things they're going to lose. A house move is never going to be straightforward, especially when it comes to the feelings of children. All you can do is to be open and honest, draw attention to the positive aspects of the move and to include them as much as possible in the preparations. Encourage any ideas and suggestions to involve them in the move and let them know that, even if they might not be able to implement every suggestion they come up with, that you're prepared to listen closely to all of their ideas, even if you might not always be able to act upon them.
You might also like...