Moving Out of Your Parents' Home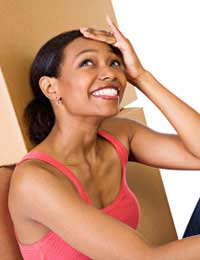 At some point in all of our lives we'll decide that it's time to spread our wings and to gain more independence by moving out of our parents' home. In the majority of cases, such a scenario will likely be met with many mixed feelings. If you've been fortunate to have had a stable and loving upbringing, you may experience a combination of excitement coupled with trepidation.
You'll feel excited about the prospect of having more choices as to who comes around to the house, who sleeps over, when you wash the dishes, when you get out of bed etc, yet you'll also experience a 'reality check' in terms of the increased costs you'll incur, whether you'll miss being around your parents each day and the overall security that comes with being part of a caring family. However, none of these emotions are unusual and most people in the same situation will have experienced them before you. The key thing to remember is to plan correctly and to accept that any house move will have its stresses as well as its joys.
Planning
The first question you need to ask yourself is if you can realistically afford to move out. You need to sit down and work out how much you have coming in and add up all your likely new expenses. Remember, it's not simply just about the rent or mortgage. You'll also need to find cash for utility bills, council tax, contents insurance and, if buying, buildings insurance too.
You'll have to set aside money for food and there may well be other bills you'll have also which you didn't have at home. If you're renting, you're likely to have to stump up money as a security bond too before you move in as well as the first month's rent. Then, once you've worked out all of your monthly expenses and subtracted that from your income, you'll then need to decide if the money you have left, after all the deductions on essential expenses, is sufficient to enable you to have some kind of social life with what's left.
Taking Everything with You
Although your parents are likely to welcome you with open arms whenever you want to come back and stay over, it's unfair to leave them in a state of limbo by leaving half your belongings in their house. They may, for example, have plans to convert your old bedroom into something more appropriate for themselves so take everything with you. At the end of the day, you're doing something that shows responsibility as an adult so you should expect to be treated like one. Now that you're moving, it isn't your parents' responsibility to clean up after you and organise your things.
Administration
Before you move out, make sure you've got on top of all the administrative tasks you'll have to do. These could include, but are not limited to, informing the council of your change of address, having utilities connected in your own name (as well as paying any additional connection fees), making sure your tenancy or mortgage agreement is all sorted out and understood etc.
Supplies
Draw up a list of supplies you'll need to take before you move in as it will make the move go more smoothly. This might include a weekly or monthly supermarket shop, making sure you have adequate cutlery and crockery, bedding items, furniture and working out where you're going to keep all your essential items. This might include knowing where you're going to store your PC – do you have a unit and space to put that unit? How about your TV and stereo? Have you decided where they are going to go?
Moving Day
As you're likely to be only really taking the contents of your own bedroom from your parents' house, there'll probably be no need to employ the services of a removal van. Between your parents, maybe other family members or friends, you'll probably have enough support and vehicles to help you ship your stuff to your new place. To make the job easier for everybody, make sure that every box, bag or bin you're using to move your belongings is clearly marked with its contents and any delicate items have been packed in the appropriate manner and labelled as 'fragile'.
By making some careful plans and by ensuring that you can truly afford your new independent lifestyle, you'll be well on your way to becoming an 'adult' in your own right. There's bound to be some tears and plenty of emotion along the way but you'll soon hopefully settle into your new surroundings and don't forget to throw that house warming party for your parents, other members of the family and friends as soon as you're settled to thank them for the help and support they have given you.
You might also like...