Advice on Moving Refrigerators and Freezers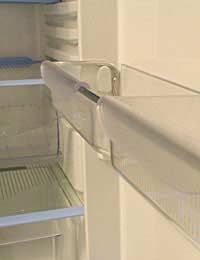 Refrigerators and freezers alongside other bulkier items of furniture and other household appliances are usually the most difficult items to move from one house to another. They're cumbersome and heavy and you should never attempt to move these items on your own. It's not simply an issue of their bulkiness and weight, however. You will need to both prepare and clean your appliance first before moving it and also make provisions to store any of its contents, give them away or put them in the bin.
Defrosting
You should fully thaw and defrost your fridge and freezer ahead of moving day. Although this is likely to cause you some inconvenience, it has to be done otherwise you'll have problems with things like condensation and ice on the day of the move. Not only that, you need to make sure it is fully dry and has been fully aired out before moving it or it may result in a musty smell so this is one of those tasks which you should be prepared for about 1 to 2 days before the move. Even if you have a frost free appliance, you should still prepare it a couple of days in advance.
Removable Parts
Make sure you remove all the trays, crispers, chilled drink dispenser, shelves, egg tray and any other removable part of the fridge or freezer otherwise they're likely to come out of position when they're lifted which could cause them to break and to damage the lining of the appliance. Keep these parts in a container and label them so that you know where they are when you reach your destination.
Cleaning
Assuming that you've removed all the spare parts and foodstuff items, in particular perishables, from your appliance, you should unplug it before beginning to clean it. Use a cloth and mild detergent (or a baking soda solution) to clean the interior of the appliance. Don't just wipe down what you can easily see. In fridges especially, you need to look underneath shelf runners too as you'll often be amazed at how much grime has gathered or remnants of food are caked on to the underneath of the runners. Likewise with the door seals.
It's no use just running a cloth along the top. Pushing the sides of the seal apart is likely to reveal a whole lot more dirt than you bargained for. Once you've done this and wiped down the exterior of the appliance, you should leave the door open for at least 24 hours to allow for any moisture to disperse. You'll also need to wash the removable parts and let them dry too before placing them in a separate container. Don't forget that glass shelves should be handled carefully and wrapped in some kind of protective covering and transported in a separate bag or container marked 'fragile'. You should also remove the base cover at the bottom of the fridge and vacuum the condenser or compressor as well as emptying and cleaning out the evaporator pan.
Moving the Appliance
You should remove any handles if possible to avoid them getting snagged on something or damaged during the move. It's also a good idea to pack the interior of a fridge with lightweight blankets to keep it more stable during transit. In some cases, motors may need to bolted down so you should refer to your instruction manual about that or speak to an expert if you're not sure as many appliances are not designed to be carried on their sides as it can damage the motor so you should make sure you check otherwise you may end up ruining the appliance. Wrapping some blankets or other soft covering around the appliance before you move it will also help to minimise it being scratched or its exterior being damaged.
A Word of Caution about Freezers
If you've planned things well, you should have run down the food in your freezer in the weeks leading up to the move but if you've forgotten to do that, be very wary about leaving food in the freezer and taking it with you. Freezers were not designed to be lifted full of food and you can damage your freezer by trying to carry it with excess weight inside. Not only that, frozen food can't be kept frozen during a move and it can defrost and deteriorate far more quickly than you might envisage. This can cause bad odours which can be absorbed into the lining which can often be impossible to get rid of and, therefore, it will make the freezer unusable. The best thing to do is give away any remaining frozen food you have left to neighbours or simply dispose of it in the bin. It might seem a waste of money but a new freezer is bound to cost you more.
You might also like...