Packing - Damage Limitation Tips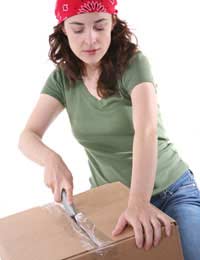 With the best will in the world even the most expensive and professional removal company in the world cannot give you a 100% guarantee that all of your prized possessions can be moved from one location to another without a single breakage – that's one of the reasons why they have insurance. That said, the majority of house removals do go relatively smoothly and you will usually arrive at your new home with most, if not all, of your belongings intact. However, there are some steps you can take to minimise the risk of damage and here are some tips that might come in useful.
Think Logically
When considering how to pack specific items, try to consider what might cause them to break or get damaged in the first place. For example, the reason most fragile items are placed into boxes is to minimise the effects of vibration and movement. But you need to think beyond that and a pile of plates is a good example. Supposing you have placed a stack of plates one on top of the other and put them in a box and they're on board the removal van. Well, it doesn't matter how well you've padded them at the sides but a sudden up and down jolt which is highly likely to occur on the road could crack the whole set of plates just in one movement if that's the way you've stacked them. But, if you'd placed them all on their side and surrounded each of them with bubble wrap, the likelihood is that they'll have remained intact. So, to minimise damage, try to look upon each of the boxes and bags you pack as having the potential to break or to get damaged and to work out what would help prevent any potential damage.
Choosing the Right Packaging
The good thing is that packaging companies have also asked themselves this very same question and have devised a whole range of packaging materials to suit all types of containers that you wish to transport your possessions in. The key is to have a variety of these materials at your disposal so you can cover all eventualities and that you have sufficient packaging as it's better to have too much than not enough as overfilled boxes, bags and containers are far more likely to get damaged. So, the items you should get hold of should include:
Sturdy boxes in different sizes (pay close attention to the seal on the bottom that will indicate a weight limit and an 'Edge Crush Rating'. 32ect is standard for most moving boxes and for more advice, you should refer to the internet or seek advice from a local packaging manufacturer)
Packing tape
Bubble wrap
Packing paper (or plenty of old newspapers)
Makeshift items which can be used as padding such as seat cushions, pillows, blankets, etc.
Therefore, by having a sufficient quantity of the correct types of packaging at your disposal and by taking a little consideration as to how each box/bag or container should be packed, you can help to minimise the potential of any damage occurring and here are some final tips to consider:
Dismantle any self-assembly furniture
Secure drums and motors of appliances such as washing machines and refrigerators
TVs, hi-fis, computers and the like should be packaged up in their original boxes with the original internal packaging wherever possible
Garden tools and equipment should be cleaned and tied together
Don't move flammable materials in the removal van or your car as this can often invalidate your insurance
You might also like...