Packing Room by Room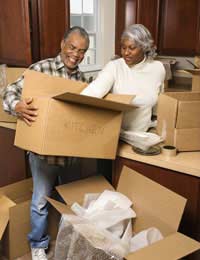 When it comes to packing not all rooms are the same but here are a few useful tips to help you when it comes to packing room by room.
Bathroom
Your primary focus is going to be on any cupboards or drawers which contain toiletries or medicines. You need to go through your medicine cabinet carefully and separate those medicines which you no longer use or are past their expiry date and get rid of them. Getting rid does not mean flushing them down the toilet as that can cause contamination. Once you're left with the rest, divide them up into two separate piles packaged up in plastic bags and any which are 'essential' should be kept separate from the others that you may only use occasionally. Toiletries you intend taking with you should be put in sealable plastic bags and make sure that any tops or caps are securely tightened. Anything contained in a glass bottle should be placed in a box with bubble wrap as opposed to a plastic bag.
Bedrooms
Check the wardrobes first followed by any dressing tables and cupboards. If you have particular clothes you don't want to get wrinkled, you may need to get hold of some wardrobe boxes but everything else can either be left on hangars and folded into a box or, if you're not particularly fussy, you can simply fill your holiday suitcases with clothes and shove everything else in boxes. Shoes should be kept in their original boxes if you still have them or wrapped in newspaper as pairs and put into a larger box. Jewellery should be put in a secure box and carried with you on your person. Don't allow expensive jewellery to be loaded onto the back of a removal van with everything else. In fact, many companies won't permit this anyway, unless you've taken out special insurance.
Linens, sheets and pillows should be packaged up into clear plastic sacks and you can buy special mattress boxes if you don't have any plastic sacks large enough. Dressing tables and cupboards should be completely emptied out and their drawers taped so that they cannot fall out when carried. Wrap all ornaments in bubble wrap and place carefully in boxes marked fragile. Curtains and any other drapery should be placed in a wardrobe box or folded neatly and packed in a medium-sized box. This would apply to curtains and drapery in all rooms. Be careful with blinds so that they don't get tangled up with each other. Separating them with paper is usually the best way to prevent this happening. Mirrors, pictures and picture frames should go in special cartons which your removal company can obtain for you. Be certain that the cartons you purchase are designed to carry the weight of the mirrors and picture frames.
Dining Room/Kitchen
Things like china and glassware should be wrapped in newspaper by each individual piece unless you have the original boxes they came in as a set. Bubble wrapping them at the top, bottom and sides of the box will also help to protect them. Plates and platters should be stacked vertically if possible and separated by newspaper or bubble wrap. Any silverware should be wrapped in newspaper or bubble wrap to prevent tarnishing. Rugs in any room should be professionally cleaned before you move and there are special containers which your removal company should be able to get hold for these items. You need to be very careful if you have chandeliers. Usually, you should leave the packing of these to the professionals. Once again, secure any drawers in cabinets with tape and remove any glass table tops and store them separately where possible.
For things like expensive tables, they can be covered in blankets and you can get hold of protective corners as this is where a table is likely to get damaged and any self-assembly items should be disassembled and all screws, nuts etc, kept in separate bag or box and marked accordingly. When it comes to food in cupboards, a useful guide is to consider the weight to cost ratio. Tins especially can take up so much room and weight yet many tinned goods are that cheap to buy that you may be better giving these away or disposing of them. Don't forget to take the opportunity of getting rid of all those items that have passed their 'use by' date. All perishable foods and frozen goods will also need to be given away or disposed of unless you're only travelling a short distance and you have freezer boxes.
Take the opportunity to get rid of the majority of cleaning products but keep one or two handy as you'll need them to do a final 'once over' wipedown before you leave and you might need them for the same purpose again in your new home.
The Living/Front Room
Things like curtains, drapery, pictures, frames, mirrors have all been discussed previously and the same applies here. Put all seat cushions into large clear plastic bags and secure. Lamps, lampshades and other fragile items should be wrapped in newspaper or bubble wrap and put into boxes marked 'fragile'. All your electrical items such as TVs, computers, hi-fis, DVD players etc should be packed in their original boxes if you have them. If not, use bubble wrap and place them in a well protected box. Getting hold of some polystyrene balls to fill the box with will give added protection.
Make sure all connecting leads and supplementary devices such as remote controls are boxed up separately by each individual item and don't forget to include the user manuals so you'll be able to reconnect everything correctly at the other end.
This is by no means an exhaustive guide to packing room-by-room. There may be a study and a children's play room to consider as well, for example. However, by considering the items in question and ensuring that you've packed them appropriately; you're far less likely to be dealing with damaged goods when you reach your new home.
You might also like...