What Not to Pack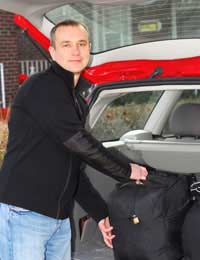 As well as being well organised and knowing just how to pack when you're moving home it's equally important to know what not to pack. Whilst some items you shouldn't pack might seem obvious and only common sense, it's important to realise that some removal firms will simply forbid you to carry specific items on board one of their vehicles because of safety implications that might pose a threat, whilst other items should either be left behind or carried upon your person or at least in your vehicle for safe-keeping.
Hazardous Materials
Many removal companies prohibit certain items from being carried on board their vans. These can include paints, aerosols, gas canisters, fertiliser and other hazardous and flammable materials. You should pay particular attention to items that you'd usually find inside your garage or shed. Many chemical compounds and flammable materials are stored in sheds or garages and, if you're in any doubt about any particular item similar to those mentioned above, it's crucial that you double check with the removal firm to see whether it's permitted or not. Better still, why not eliminate the risk and simply give these items to a neighbour or somebody else who may be able to make use of them or dispose of them in the correct manner and buy replacements when you've settled into your new home.
Perishable Items and Frozen Goods
It's not simply a few pieces of fruit, your favourite cactus plant or last week's lettuce that we're talking about here, 'perishable' items cover any plants, food or even animals – i.e. things that can be easily damaged, spoil or even die. So, no, your dog Fido can't travel in the back of the van either! It's not so much that you'll be punished if a bag of apples has been thrown in to the back of the van by mistake. It's more a case of the removal company's liability and insurance coverage. So, say for example, a carton of eggs or some frozen fish somehow managed to find their way into a removal van and the eggs broke all over some furniture or the frozen fish was left in the freezer, defrosted and damaged the freezer lining, you wouldn't be covered by the firm's insurance policy so it's better to be safe than sorry and simply give these kinds of items away or dispose of them before you travel – not your dog obviously!
With any animals you plan to take, you must take them in your own vehicle and not in the removal van. However, excluding your pets, there are some companies who will allow perishables onto the van as long as they are packed properly and the journey is relatively short. Speak to your removal company if you need to know more about this. For example, if you're a keen cultivator of plants, this will be something that is highly relevant to you.
High Value Items
In considering items of 'high value', this does not necessarily equate to items which are worth a lot in monetary terms but often includes items which have a great sentimental value or which cannot be replaced if lost or damaged or are difficult to replace. So, here's a list of items which you should carry with you on your person or in your own vehicle as opposed to the removal company's.
Personal files and documents – e.g. passport, birth certificate, wills, insurance papers, address books, diaries, flight tickets
Photographs and photo albums
Car keys, house keys, safe keys
Tax records, deeds
Collections e.g. stamps, coins, valuable artworks etc
Personal letters
Computer software and back-up disks and drives
Medicine
Jewellery
The items in the list above (with the exception of jewellery unless adequate insurance is in place) can be put onto the removal van but it is far safer to carry these upon your person as certain items can be irreplaceable or can cause you a lot of inconvenience if they go missing and it's better to be safe than sorry.
You might also like...