Packing Awkward and Fragile Items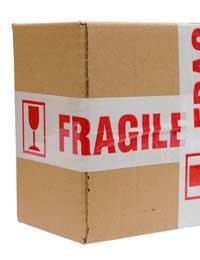 Packing awkward and fragile items is something everybody dreads when it comes to moving home but there are some precautionary measures you can take to minimise the possibility of damage or breakage.
Computers Hi-Fis, DVD Players, TV sets etc
Any equipment which falls into the home entertainment category is likely to be some of the most expensive and most often used items that you'll want to protect. Because of their individual shapes and size, the most secure method of transporting them from one place to another is to pack them in their original boxes where possible. If you've discarded those, then you're going to have to make do with alternative boxes into which you should cover the piece of equipment with a sheet or dust cover and once it's in the box, make sure that any spare gaps are plugged with some kind of foam padding so that the object is immovable. Also make sure that there is padding at the bottom of the box too. Make sure that you've detached any power cords or other cables and that they are stored in the same box in protective bags and that they can't flap about and damage things like monitors, for example.
Photographs and Picture Frames
These are best packed by wrapping each of them individually in bubble wrap and placing them on their edge as opposed to on top of each other in a box. Make sure that the box is also fully padded with something like polystyrene beads and that there is no room for them to bang against each other. Don't use newspaper for padding in this instance as the print can get transferred from the paper to your pictures.
Mirrors
You should treat mirrors as you would picture frames but, in addition, you should put two diagonal pieces of sticky tape across the mirror itself as this will help to minimise damage.
Tools
Depending on their size, you may be able to group a few similar sized tools together by tying them then wrapping the attached tools with corrugated cardboard and tying a piece of cord around it. Make sure, however, that you use bubble wrap or some other form of protective material wrapped around any sharp ends and alert the removal firm to their potential danger when it comes to storing these kinds of items on the van.
Plates and Saucers
Plates and similar items should be wrapped in bubble wrap or paper individually and placed on their sides inside a box with the rest of the box padded out. A common mistake is to stack the plates one on top of the other which often results in many of them breaking should the removal van encounter a few bumps along the way.
Glasses and Cups
Try to get hold of boxes that have individual corrugated compartments and wrap each item with bubble wrap or newspaper. If you haven't got these types of boxes, you can nest three or four glasses or cups inside each other if they are all part of the same set, but still remember to put paper or bubble wrap between each one.
Types of Internal Protection
There are several different types of protective padding you can use in boxes to help to safeguard your fragile items. Bubble wrap is good for light, delicate items and you can use multiple layers for anything heavier. Sheets of Styrofoam padding are often preferred when packing larger items such as a desk or TV set, for example. Corrugated dividers are ideal for transporting things like glasses and cups. You can also buy polystyrene balls to flesh out any additional padding should you need to but whatever you choose to use, the whole idea of packing awkward and fragile items is that the contents of the box shouldn't be able to move around. Shredded paper, however, is not that good for protection as items tend to still move around the box.
It's not just about the packing though. You need to ensure that all boxes and other forms of container are securely taped and that the box can withstand the weight of what you're packing into it. It will prove a worthless exercise to concentrate on padding inside if the bottom falls out of the box when it's lifted. Finally, you should also clearly label any such box with 'Fragile' marked on it. If you're in any doubt, get some advice from your removal company who, in some cases, will often take on the responsibility of packing fragile and awkward items for you, although this will usually incur an additional cost.
No matter, how well you pack, however, you can never be 100% guaranteed that you'll suffer no breakages or damage. Therefore, if there is anything so valuable and fragile that would be irreparable should it become broken or damaged, always carry that with you in the car itself and don't just take the chance with the removal van. And, make sure that you have taken out an insurance policy to cover you in the event of any damage or breakages.
You might also like...