Reducing the Stress of Moving House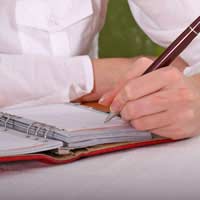 There is no avoiding the fact that moving home is often a stressful time but there are certain things you can do in order to minimise its effects both before and during the move. Here are some useful tips that are worth considering.
Have a Good Clearout
Getting rid of all of the clutter in your house means that there will be less to pack which will save you time. In addition on a psychological level, this also enables you to close one particular chapter in your life and prepares you for the next one. There is a more detailed chapter on de-cluttering within this website which will give you some useful pointers to the different ways you can dispose of household possessions which you no longer want or need.
Bidding Farewell
Assuming that you've been lucky enough to have some good neighbours, throwing some kind of farewell party or other get-together not only gives you the opportunity to say goodbye to friends and to thank them for their support over the years but it's also a chance to let your hair down a bit and to enjoy yourself so that, for a few hours at least, your thoughts can turn towards having some fun instead of you having the stress and worry of the house move and what you have to do next.
Planning and Organisation
Formulating a strategic week by week plan in the run up to the move ensures that you're less likely to overlook any important issues and will also help to keep you on track. Many people experience more stress during a house move because they fail to get organised and often leave things until the last minute which then causes them to start panicking.
Look After Yourself
Moving home will tire you on both an emotional and physical level so make sure you get some early nights and that you are eat a balanced diet as both will keep your mood more positive in the run up to the big day.
Stay Flexible
No matter how good a moving strategy you might have implemented, don't expect everything will go completely to plan all of the time. Be prepared for the unexpected and try to go with the flow of the move. The logistics of a house move can throw up all manner of potential disappointments yet the more patience you have and by having the ability to re-adjust and to change the odd plan here and there due to any small unforeseen circumstance will help you stay on an even keel.
Work Together
Everybody involved with the move should pitch in to the preparations both before and during the move. Even children can help out with certain tasks which can save you both time and effort. Furthermore, by everybody pulling their weight, it also allows each of you to make the psychological break from your old home and prepare you to look forward to your new one.
Enjoy Yourself
Putting on some lively uptempo music whilst undertaking your house moving tasks both before and during the move will put you in a positive frame of mind, is likely to increase your energy levels and the whole process will seem less of a burden.
Be Realistic
Finally, it's important to remember that 'Rome wasn't built in a day' so once you're in your new home, try not to fret unduly about the fact that your new home doesn't look or feel anything like it did when you came to view it initially. Yes, there may be boxes everywhere to unpack and, without furnishings and things like curtains on curtain rails straight away, it might not feel like a 'home' straight away but take your time and have another unpacking plan which covers the essentials and then just make steady progress with the rest of your unpacking over the following few days, evenings or weekend. By considering 'The 5 'Ps' of preparation, planning, patience, pitching in and having a positive attitude, they will all go a long way to ensuring that you keep your stress levels to a minimum.
You might also like...