Tips to Help Your Kids With the Move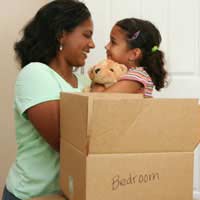 One of the key things to remember once you have told your children that you will be moving home is to involve them as much as possible – that's of course, supposing that they want to be involved. Some may find it far more difficult than others to get their head around the idea so you may find there's perhaps a bit of a stand-off for a brief period, especially with older children who will probably want to make your life miserable for a while but for whom, acceptance will simply be a matter of time. Involving your kids will depend very much on their willingness and desire to get involved, their ages and their personalities but here are a few suggestions that you might wish to try which might help to ease the transition for them.
Buying Them a Journal
If your child is the type who likes to keep a diary, why not buy them a journal especially for the purpose of them documenting the run up to the house move. In this way, they can express themselves and by getting their most intimate thoughts down in writing, this can often help them to get their feelings and emotions out in a productive way and keeps them from bottling up their emotions. It can also be used to put photographs and messages from their loved ones and friends – messages of friendship, support and good wishes which will help them feel better about things in the days and weeks leading up to the move.
If You've Yet To Decide On A Specific House
If you're at the stage where you only know the area you're moving to as opposed to having settled on a house yet, get them involved in discussions early and allow each of them an input into what type of neighbourhood they'd like to live in and what type of facilities and amenities are important to them. Giving them a say in that and only choosing to view houses which match a decided and mutually agreed criteria, yet one which is still practical, will make them feel as though their opinions have been properly taken into consideration when drawing up a short-list of homes to go and view and, if it's feasible, arrange any viewings when all of the family can go to visit.
Encourage Them to Get Involved With Their Bedroom Design
Once a new house has been decided upon, suggest that each child chooses their own way of decorating their bedroom and how they wish to shape their own individual space. Obviously, you may not be able to accommodate all of their requests but they'll feel a lot happier if they're able to have input into the way their bedroom should look in their new home.
Get Them to Help With the Research
You'll have so much to think about yourself with the move that you'll probably welcome all the help you can get so ask them if they'd like to get involved with some practical help which will not only assist you but will also allow them to feel that they are being fully consulted during the move. You could, for example, set them research projects if there's time. Ask them to research the internet or to visit the local library and try to find out things like the location of the nearest cinema, the local football team they might be able to join and what nights they train and who to contact. Ask them to locate the nearest recreation centre and to find out what facilities it has. Even younger kids are internet-savvy these days so you might ask them to find out the location of the nearest fast food outlets and theme parks and playing fields.
Visiting School
Once you know the school(s) they'll be going to, take them with you to visit the school principal, their form teacher and to get a guided tour of the school. Kids can often instil fear into themselves by having a pre-conceived notion of what their new school and its pupils are going to be like and their imagination can often run riot with them conjuring up images in their minds of what type of classmates they're going to have. By taking them to visit the school several weeks before they are due to start class, and preferably in term-time, you can often put them at their ease and dispel any myths they may have built up in their imagination.
Leaving-Dos
Ask them what type of leaving do they might wish to have. Do they want a larger send off by, say, hiring the local community centre and having a massive party for all their classmates, family members and neighbours or would they prefer something like hiring a limo for a few of their closest friends to attend a special event.
However you decide to go about it, the more involved you can get them in the planning of the move and the more input you allow them to have, the less time and inclination they'll have to feel fretful about what they're leaving behind and there'll be less opportunity to feel daunted about the future. It's inevitable that you'll possibly be met with some resistance in the early stages as they get to come to terms with the move in their own minds but showing empathy and understanding to them as well as doing all you can to involve them will go a long way in helping them come to terms with things.
You might also like...