Moving into Your New Home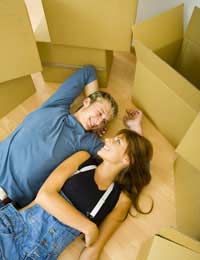 For probably the first few weeks after you move into your new home you're going to be fully consumed with the vast amount of organisation and chores you'll have to do to get your new place to feel like a 'home' again. However, it's important not to neglect other dimensions of your life as well. Moving home does cause many disruptions to your normal way of life over the first month or so but it's crucial that you look after yourself and your own needs to as well as those of the other family members.
Getting to Know Your Neighbours and the Community
It's never easy to simply go up and introduce yourself to new people especially when it comes to new neighbours but you are going to be part of a new community and, whilst you may not necessarily end up forging strong friendships with neighbours, you'll begin to feel more settled and at home if you are able to share a brief conversation with one or two of them or even simply saying the odd 'hello' now and again. You don't necessarily need to knock on their door to introduce yourself. Even if you're just making regular visits to the local shops or you're out tending to the garden, you'll be bound to cross paths with some of your neighbours from time to time which is an ideal opportunity to introduce yourself and to get to know them a little better. Likewise, if you have children, you're more likely to meet other parents through the course of doing the school run or attending sports events and by making an effort to be sociable yourself, it will make it easier for your children to settle in and make new friends too. Indeed, it may well be that your children inviting new friends around to your house which will be the catalyst for getting to know other adults, i.e. their parents. It also makes sense to get out and about within the local community to familiarise yourself with what's going on locally and this will also give you a break from the chores at home. You can all do this on foot individually from time to time and, perhaps, also make a family day out of it in the car.
Survival Necessities
In the first few weeks of your move, you'll probably be driven mad wondering where everything is. It often helps to create a 'survival kit' – things that will make you and the rest of the family feel more comfortable. Each family member should have their own survival kit which will be unique to them and contain many of the things that are familiar to them and which they hold nearest and dearest. It could contain anything from a games console player to favourite books or CDs or a child's favourite toy or comfort blanket but it just helps if, within the first few weeks at least, you all can find the things you tend to use the most quickly and easily.
Bedrooms
The bedroom offers you your own little 'sanctuary' away from the world so therefore it's important that you try and get these rooms organised how you want them to be as soon as you can. This is also an opportunity for the children to get involved too as their bedroom provides them with a place of safety and privacy so to have them give their own input into how they want their room to be set up and decorated will enable them to settle in more quickly.
Routines
If you had set routines as a family (or even on your own) in your old house, it's important that you re-establish these as quickly as possible. Things like mealtimes and bedtime routines, for both children and adults, can soon be lost amidst a house move so try to reintroduce these as soon as possible.
There will be other issues you'll need to deal with when moving into your new home. Unpacking, settling in your pets and redesigning your new home to stamp your own individuality on it might all be things you'll need to take care of and these aspects are all discussed in other articles contained on this website. However, by making the effort to mix with new people and taking small steps to make everybody feel as though the new house feels like a 'home' and that you all have a stake in it, the quicker you will settle in.
You might also like...