Creating a Checklist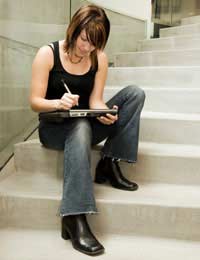 As we have pointed out repeatedly in numerous articles contained on this website the key to a successful and less stressful house move is to be organised and one of the best ways you can do that is to devise a checklist of things which you'll need to do and a timescale by which you'll need to do them. Although this might vary from person to person depending upon what you need to see to, the following contains a reasonably comprehensive list of things you'll almost certainly need to take care of at some point or other and when you should do them. Packing (which you should also start considering about a month before removal day) and the removal day itself is covered in more depth on other articles contained on this website.
4 Weeks to Go
Have your car checked over, especially if you are going to be driving a long distance on moving day
Notify DVLA of change of address
Notify change of address to bank and other financial institutions such as credit card companies
Let any schools know your children will be leaving if you haven't done so already
Notify any benefit office, inland revenue and utility companies of change of address and give notice to your landlord if you are renting
Notify council tax office
Start making arrangements for any temporary kennelling/looking after needs your pets may require
Start packing up items from your shed and garage
1 Week to Go
Contact internet provider and notify them of change of address
Return any library books
Make arrangements for your mail to be redirected to your new address
Settle any outstanding bills for things like newspapers and milk deliveries
Return any items you have borrowed from friends or neighbours
Make any final arrangements if your children are going to be looked after elsewhere on the day of the move
3 Days to Go
Check that the keys to your new home are going to be available and make sure you arrange where you are to take your existing keys, i.e. the estate agents or the new owners
Inform neighbours about the removal van coming so they can make any alternative arrangements for parking their vehicle elsewhere on the day of the move if need be
Get together a box or bag with essential items in it for the day of the move
2 Days to Go
Empty and defrost your fridge/freezer
Empty kitchen cupboards and throw out any food that you don't intend taking with you
Collect any valuables and/or important documents together into one safe container which should travel with you and not in the removal van
1 Day to Go
Finish off any packing apart from the bathroom or kitchen where you'll still probably need to get hold of certain essential items
Dismantle any self-assembly furniture and disconnect most of the major electrical items such as the washing machine, computer, hi-fi equipment and maybe even the TV set unless you absolutely must keep it on and pack all of those items that can be packed
Make up a snack box for tomorrow and a toiletries box so the rest can be packed away
Check with the removal company that all is still OK for tomorrow and on schedule
Make sure you've fully charged your mobile phone as you're probably going to need to use it a fair bit on the day of the move
Finally, make sure you get a good night's sleep. You're going to be busy the following day!
If you draw up a similar checklist to the one above, incorporating any additional things you need to add on to it specifically, alongside reading the other articles about packing and removal day itself, it will enable you to be as organised as you can be which should, hopefully, make the move go a lot smoother.
You might also like...