Timetable for Moving Home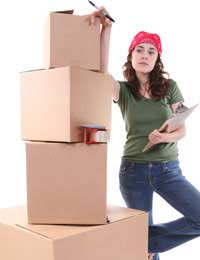 Moving home is made a lot easier if you plan each stage of it with military precision and the more time you allocate to your plan the easier it will be. When it comes to moving home, the more preparations you make ahead of the move, the easier it will be in the run up to the day you move out. Here are a few tips for the kinds of things you can do ahead of time.
Six Weeks Before Moving Out
At this stage, it's time to start making plans for how you're going to move out all of your belongings. You should start ringing around removal companies and obtaining quotes and order all of your boxes and other packaging materials. Start to pack away all the things you won't need on a daily basis. Things from the loft, basement, shed, garage etc. can all start to be packed away or got rid of. You should also start informing all the relevant companies about your change of address and things like changing over records for dentists, school, vets etc and contact your insurance company to arrange to transfer or cancel your home insurance policy.
Four Weeks Before Moving Out
By now, you should have made contact with all of the utility companies you're going to be using in your new home to arrange a start date, whilst ensuring you still receive utilities from your current providers until the day you actually move out. Start to make plans for who might be looking after your pets or minding the baby on the day of the move, if they're going to be following on later and prepare things like draining fluids from lawn mowers or, perhaps, motorcycles or any other kind of equipment containing combustible materials that you'll no longer need before you move. Start your cleaning. For more detailed information on how you should do that, please refer to the article entitled 'Cleaning Your Home Before Moving Out'.
Two to Three Weeks Before Moving Out
Terminate any regular deliveries you receive, for example, milk and newspapers and make sure that there have been no changes regarding your removal company and that they have all the necessary information regarding things like the time of their arrival, the directions to your new home etc. Return things like library books and check that you've picked up any dry cleaning etc.
One Week To Go
Start defrosting your fridge/freezer and plan simple meals to prevent you from dirtying appliances like cookers, ovens which, by now, you should have already cleaned. Double check that the kids and pets arrangements are in place and start packing a box of essential items you'll need as soon as you get to your new home. Arrange to have all of the utilities switched on in your new home by the time you arrive and make sure you've given your new address to neighbours, family members and friends. If you're on regular medication, make sure you've got your prescriptions and that they will last until you move in and get out any manuals or instructions for any equipment that the new residents in your current home will need. As far as packing goes, please refer to the other articles specifically to do with packing which you'll also find on this website. If you have mobile phones, now's a good time to get your home phone disconnected but if you don't, make sure that your home phone is not transferred over until the day you actually move out as you're going to need a phone on removal day. Also, make a full inventory of all your belongings that are going to be placed on the removal van.
Moving Day
Plan on spending the entire duration of your actual move with the removal men. Don't leave the house for the last time before they do. Take down all readings of utility meters and when the removal men are ready to pack up your belongings, make sure you go through the inventory as they load each box (don't forget to do this at the other end too).Finally, once everything is packed and ready to go, do a final walk-through of the entire house and any outbuildings such as sheds and garages to check you haven't forgotten anything, then one quick vacuum and wipe down of work surfaces should be sufficient. Lock all of the windows and doors, say your last goodbyes, then drop off the keys at the estate agent or new owner's and you're ready to move on.
You might also like...