Preparing Your Home for a Viewing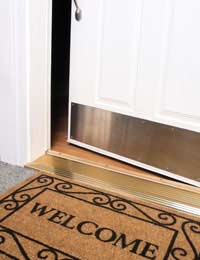 If you want to sell your house and move on, it's worth preparing properly for every single viewing. On average, in a good market, many experts believe it takes about 10 viewings before you have an offer.
In a tough market, however, it could be as many as 20. But you never know when that perfect buyer will walk through the door and in order that he or she sees your property as their potential perfect next home you need to prepare it well before the viewing. So here are a few suggestions
Kerb Appeal is Vital
Your home must look as appealing as possible from the moment a potential buyer drives past or pulls up outside. Ensure the front garden looks neat and tidy and that any bins have been moved away.
Give your doorstep and front door a quick wipe down. Soggy autumn leaves need to be swept up and stray bits of rubbish picked up and thrown away. If your car is right in front of your house then move it so the viewer can see the frontage better. If it is snowy or icy, make sure the path is clear.
Your Home Needs to Look Inviting
Your property should also look welcoming from the outside. Think about positioning a colourful container or a nice pot plant out in front to brighten your home up. Switch on any exterior lights and make sure there's an inviting glow coming from the inside. If it is dark, then pull the curtains or blinds but allow a chink of light to escape, tempting the viewer in.
Get Rid of the Junk
Clearing the clutter is essential. This often tends to accumulate in the hall. Pick up boots, shoes, raincoats, school bags, piles of post and anything else that has just been dumped by the front door. Remember, a hallway is where a viewer will gain a first and last impression of your home.
Atmosphere is Key
Thinking about interior lighting and atmosphere is also important. Create a welcoming ambience with table lights and standard lamps rather that cold, central bulbs. If a small room or hallway is particularly dark, a well-positioned mirror can also bring extra light in during the winter. Lighting a fire can make a room feel cosy and comfortable but remember to try to get the temperature of your house right well before prospective buyers arrive. Make sure the air is not stuffy and that condensation on windows has been dried away.
A Final Check
Go through your house and have a last tidy and clean. Change the linen on beds, wipe down all surfaces and make sure bathrooms and kitchens are not steamy. Attend to all outstanding minor jobs - corners of wallpaper peeling off, patches of scratched paintwork. Leave nothing unfinished and make sure you clear up afterwards. Finally, have a quick back garden tidy too. If it's summer then arrange garden furniture to look appealing. Put away all children's toys that make outdoor areas look cluttered.
You might also like...