Common Questions House Buyers Will Ask You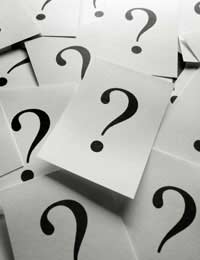 Buying a house represents the biggest single financial outlay a person is likely to make in their lifetime. Therefore, as the seller, you can expect be asked quite a number of questions by prospective buyers. The important thing here is to be as open and honest as possible.
Firstly, although some prospective buyers will use questions as an opportunity for 'leverage' in terms of perhaps getting you to lower the price, remember that you, too, will probably be looking to buy a new house too. Therefore, it cuts both ways as you'll want to have as much accurate information as possible about the next house you intend to buy too.
Furthermore, a lot of the information you might be asked for is already likely to be out there in the public domain anyway and the recently introduced Home Information Packs (HIPS) which every house seller has to supply to prospective buyers with will contain some of the answers to commonly asked questions as well.
Here are some of the most commonly asked questions prospective buyers put to sellers.
Why Are You Selling?
You might think that a prospective buyer who asks this question is only being curious in the hope that they can detect a desperation to sell which might enable them to entice you into accepting a lower offer. It's a fact that this question does give a prospective buyer a lot of information which they might use to their advantage.
However, on the plus side, it may be that the buyer can structure a purchase offer that not only meets your needs but they can work with you regarding deadlines. Divorce is a good example where because both partners might not be communicating with each other too often, so more time may be needed to present the offer.
How Long Has The House Been On The Market?
This question is always skewed in the buyer's favour as the longer it's been on the market, the more chance the buyer has of getting you to accept a lower offer.
What Are The Neighbours Like?
A seller holds the upper hand here and you can paint whatever picture you like here. After all, opinions about neighbours are highly subjective so one man's 'party animal' could be another man's 'best friend'. Variations on this question can include asking what the crime rate is like and, obviously from a buyer's perspective, there's enough information readily available to the general public to gain an understanding of the level of crime in a particular area. Asking if you've ever been burgled is also a common question to be asked.
Have You Carried Out Any Major Repairs Or Renovations Recently?
Questions related to this and if there are any structural defects or problems with the property will all now be answered in the Home Information Packs anyway but you may still be asked if you can supply warranties and paperwork for any major repairs or renovations you've had carried out.
What Are The Local Schools And Amenities Like?
This question gives the seller the opportunity to really promote the property and the area itself to prospective buyers so make sure you 'talk up' all the benefits and attractions of living there.
How Long Have You Lived Here?
This information will already be available so be honest when answering the question. Here the buyer is simply trying to establish whether or not you've enjoyed living in the house yourself. The longer you've lived in the house, the more appeal that has to prospective buyers.
Are You In A Chain?
Some buyers will want a place that they can move into fairly quickly, especially first-time buyers, so they'll want to establish if you're in a chain and how long that is as the longer the chain, the more chance of someone breaking it.
What Are The Cost Of Your Utility Bills?
Especially at present with rising fuel costs, prospective buyers will want to gain an insight into how much they'll be laying out each month for gas, electric, water and also council tax.
Other Questions
You can never completely second guess what questions you might be asked by prospective house buyers but others might include:
What fixtures, fittings and domestic appliances will you be taking with you?
Have you had any other offers?
How old is the wiring/central heating/boiler?
Do you ever suffer from flooding problems?
All you can do is answer as honestly as possible to any questions you are asked. Obviously, you'll need to use your judgement on occasion but it's far better to be prepared in advance for how you're going to answer the most common questions and to remember that many of the facts being sought are always able to checked through other means.
You might also like...