How to Choose an Estate Agent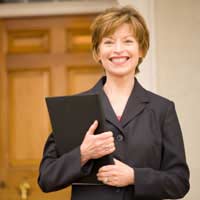 Choosing the right agent is essential if you want a quick sale and to achieve the maximum amount of money for your property. Any estate agent will work hard to convince you that he or she is the best person to sell your property so asking the right questions and listening carefully to their answers before you sign on the dotted line is vital.
Start the Process of Finding an Agent
Start the process of finding an agent by studying newspaper adverts and surfing the web. Drive or walk around the area in which you live, and start making gentle enquiries with a few agents.
Your Type of Home
Think about the kind of home you live in and whether it requires a specialist agent. Some focus on high value homes, others on city, waterside or country property. Then call at least two agents out to value it. Ideally these should be agents who sell well in your geographical area. Do look out for "For Sale" boards but even more important are the "Sold" boards.
A Valuation Isn't Everything
Try not to be tempted to go for the highest valuation – it might not be the right one for your home. An agent might try to lure you on to their books but suggesting a high figure to start with. Further down the line they may well then put pressure on you to reduce. Furthermore, if you do overprice your property you will miss out on potential buyers while it sits on the market. Always ask the estate agent how they arrived at the figure they have suggested. You need to see evidence of similar properties they have sold and possible an independent market report too.
What Do You Get For Your Money?
Don't be tempted to go with the agent that offers you the lowest fee. Ask the estate agent about the total exposure your property will receive. The more exposure you have, the more viewings there will be, and the more offers you will receive. Then ask about their "after sales" set up and the fall through rate they experience – you will want your agent to look after your sale expertly all the way through to completion. Sometimes an agent with a higher fee offers a more comprehensive service.
Negotiate With Agents
If possible try to negotiate a shorter contract period. Many agents try to tie vendors into lengthy agreements but you need to be able to change your agent should the service and marketing not meet with your expectations.
Experience is Essential
Try to gauge how experienced the estate agent is. An experienced valuer should set a realistic price and any negotiations will then be handled by the sales office. If the negotiators are good and have been well trained you could achieve thousands of pounds more for your property. Check if the estate agent is a member of the Ombudsman for Estate Agents Scheme and abides by the OEA Code of Practice, it offers you security and a government approved redress system.
Get References
Finally, ask your friends, family and work colleagues for their opinions. Find out who they have sold their homes through and who they were particularly pleased with.
You might also like...