Garden and External Presentation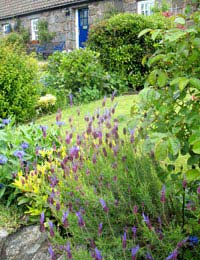 Most house sellers will want to ensure that when they welcome prospective buyers into their home that everything inside is looking as appealing as possible. What they'll often fail to pay as much attention to, however, is the gardens and the exterior of the property. This is a mistake you should avoid making.
You'll be familiar with the phrase 'first impressions count' and it's equally true about a property. After all, if you look at estate agents advertisements in the newspaper, it's always the exterior of the house which will be pictured on the accompanying photograph.
Therefore, it's crucial that you pay just as much attention to the gardens and your home's exterior, if you want to leave a lasting impression on prospective house buyers – something that is now commonly referred to as 'kerb appeal'.
Garden
Before a house viewing, you should ensure that you mow the gardens and clip back any hedges. Make sure any dead leaves are swept up and any weeds are removed from your driveway.
You should also make sure that the garden and driveway are kept 'clutter free'. This includes things like putting children's toys away which may be lying around and ensuring that things like tools, lawnmowers and hoses are all put away properly or kept in the shed or garage and that any rubbish sacks are put into bins. If you have a pet, make sure any droppings are picked up and disposed of.
Exterior Doors And Windows
Make sure that exterior window and door frames are free of things like chipped paint and remove any grime as well as clean all of the windows. Also, check your roof for broken or damaged tiles and replace if necessary. Keep your drains free from grot and also ensure that your front door looks inviting.
Your front door is something you should pay close attention to as it'll be the first thing the prospective buyers will get to view close up. Therefore, make sure it's in good condition and has been wiped down or even repainted, if necessary. Door handles and knockers should be polished or maybe even replaced and make sure your door bell is working.
Fences, Gates And Boundaries
Make sure that any fences, gates and other boundaries such as railings are in good condition. Repaint, re-stain or replace any that aren't. Check that your gates open freely and remove any moss or any other weeds or dead foliage that may put off your prospective buyers.
Additional Considerations
As well as the basic maintenance and general orderliness as described above, try to look at other ways you can make the exterior of your home more appealing to prospective buyers. For example, if you have a patio or decking and you're trying to sell your home in the summer time, leave out sun loungers and a garden table and chairs with, perhaps, a sun umbrella.
Tend to things like window boxes and hanging baskets and try to show your exterior space in which you relax in a good light.
The important thing to remember when it comes to prospective buyers who are house hunting is that they'll often drive past your home well before they consider viewing it. In fact, they'll often narrow down their viewing options by eliminating the prospect of viewing a particular home if they've drove by and have been unimpressed with the gardens or other aspects of your home's exterior.
Therefore, as the seller who wants to make a good impression, don't wait to carry out all of the above on the few days leading up to a viewing but tend to a lot of the major jobs before even putting your home on the market.
You might also like...