Things That Put Potential Buyers Off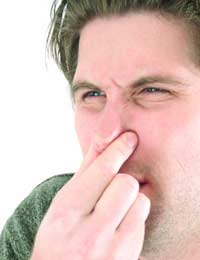 When it comes to selling your home, you should want it to be appealing to prospective buyers. Firstly, it's important to remember that you don't need to ensure that your house is in pristine condition before people come to view it.
Therefore, there's no point in doing a complete major redecoration job before you come to sell as the prospective buyer will not necessarily like your tastes and the chances are that they'll want to put their own 'stamp' on the place, if they decide to move in. However, there are certain things that can put a prospective buyer off. Most of these can be easily rectified with just a bit of due care and attention.
Bad Odours
One of the things that will put most house buyers off a particular property is if they are greeted with an unwelcoming odour as they walk through the door. The problem is that a lot of the time, the seller is not even aware that there is a problem. The stench of cigarette smoke and the smell of pets are both turn offs for buyers so it's important that you eradicate them.
Therefore, you should only smoke outside from the day before you have a viewing. Eliminate the odours with things like carpet cleaner, furniture polish and air freshener and have several plug-in fresheners working a few days before the viewing. If you have a pet, make sure you keep it outdoors, in the garage or at a neighbour's house on the day of the viewing as not only will non pet owners still detect the smell of animals, they can often be frightened by them too and hoover up any signs of pet hair.
Dirty Kitchens And Bathrooms
Whilst you should make an effort to make all the rooms in your house look clean, tidy and appealing, you should pay particular attention to the kitchen and bathroom. Splattered fat stains on any walls near the cooker (which should also look pristine) are a 'no no' and make sure you remove any mildew from bathroom tiles. Even buying a new shower curtain, bathroom rug and towels will make a good impression and doesn't cost much and make sure all of your kitchen work surfaces are clean and disinfected too.
Dimly Lit Rooms
You, personally, may feel that dim lighting is quite cosy but when selling a house think 'brightness'. Brighter rooms tend to seem bigger and are generally more appealing so replace any existing darker lampshades with brighter ones and remove any dark, heavy curtains to let in more light. Even repaint some walls if they contain extremely dark colours but don't spend a lot of money on that as the buyer will almost certainly want to redecorate anyway. If you are concerned that your rooms do look a bit dull and dim, don't invite viewers round in the evenings either.
Garish Wallpaper
Fancy garish wallpaper can be a very personal taste so consider replacing it with plain white wallpaper or even stripping it and simply paint the walls a neutral bright colour like white instead. Don't paint over wallpaper though as this will tend to not only make things look worse but it's also harder to strip when redecorating and potential buyers could be put off by the additional work.
Kerb Appeal
'Kerb appeal' is an expression given to the exterior of your house as that will be the first impression that prospective buyers will get. Therefore, make sure lawns are mowed and that gardens are well maintained. Think about touching up exterior paintwork and make sure all kids' toys are put away in the shed or garage. Some buyers will even make a point of looking in your gutters to see if they are cleaned regularly. This might seem surprising but it's a useful ploy in determining whether or not you've kept an interest up in the general maintenance of your house.
Give The Prospective Buyers Space
Although there might be certain areas of your house that you'd rather prospective buyers didn't see – under the kids' beds for one example - it's important to recognise that they have a major purchasing decision to make as this could be their future home too. Therefore, if you are showing prospective buyers around the house yourself, as opposed to leaving it to an estate agent, then once you've given them the guided tour, allow them 10 minutes or so to look around the entire house themselves without you being present. Simply tell them, you'll wait in the garden or something. This space will enable them to discuss things with their partner and could result in a quicker decision.
You might also like...