Shipping Overseas - Plane or Boat?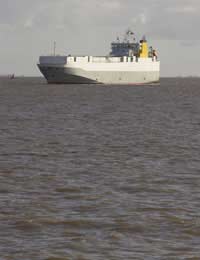 If you're moving many miles away overseas the two main options you're going to have are whether you transport your belongings by air or by sea. Obviously, if you're flying yourselves, you may end up thinking that it'll be easier to transport everything on the plane but if you have a lot of stuff, it may well end up having to go on a different cargo plane altogether anyway. The main factors are going to be cost and how long you're prepared to wait for your belongings at the other end. This article will outline a few of the pros and cons of each method.
Shipping by Sea
Shipping costs are worked out by volume as opposed to weight which is how sea freight is calculated in terms of cost so you'll obviously save yourself a great deal of money should you choose to ship everything by sea. The downside, however, is that you'll wait a lot longer for your belongings to appear at your destination and, depending on circumstances, that could mean that you incur additional costs if, for example, you prefer your creature comforts and decide to take up temporary residence in, say, a hotel and stay there until your belongings arrive. You should also note that, unlike with air freight, your bottom line quote will usually not include insurance which you'll also have to take out independently and which could bump up the total cost considerably. And, although it can vary between companies, insurance is usually based on either coverage for loss only or the more expensive coverage for loss and damage so when you ask for a quote, make sure you know what you're covered for. Also, as most shipping companies will only ship your belongings in wooden containers or crates which are seaworthy, this could mean them taking up more space than you have available to you in your home as you're trying to pack and they might also not be included in the cost or you will be charged extra for them.
Shipping by Air
Air freight, whilst being more expensive, is a much quicker way of getting re-united with your belongings at your destination and it's this convenience that may make you think that it's worth paying the extra cost which can be quite considerable. But, as you can also use your own boxes it can make the whole process a lot quicker and simpler and it's really only the cost that might be too prohibitive.
Get Several Quotes
The best thing to do is to obtain a number of quotes from both companies who specialise in sea freight and those who specialise in air freight. Then, once you've decided which method you're going to opt for, then you should compare the quotes again and find out the bottom line and whether or not it includes things like insurance and door-to-door pick up and delivery as what, at first, might seem the cheapest quote might be the most expensive once you add on all the extras. Just as you would with any removal company, try to find out as much as you can about the companies you're comparing – how long they've been established, where they tend to ship to the most, do they ship to your destination regularly, do they have their own packers, can they provide you with written references, how long it will take from the moment the items leave your door to the time they arrive at the other end etc. These are all questions you need to find out before you can finalise which company you intend using.
You might also like...
When shipping overseas, we always need to do a series work to find the best way to ship to our destinations, cause different way has its own advantages. Nowadays, with the assistance of freight forwarding agents, shipments can be handled more easily. I always need to ship items from China. I would definitely choose a China Freight forwarding agent to motivate my shipment.
marie
- 25-Apr-13 @ 7:43 AM