Moving Overseas With Your Pets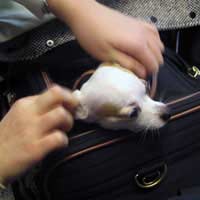 There are always going to be a number of factors to take into consideration when it comes to taking your pet abroad with you if you are moving overseas. The age type of animal, its personality, quarantine costs if applicable and practicality of the situation etc are all going to be things you'll need to consider first. However, once you've decided that you do intend to take them with you, here is some useful advice on some of the things you'll need to take into account.
The Flight Itself
Pets can travel out of most UK airports but if they are travelling under the Pet Passport scheme, you'll need to check with DEFRA, the government department responsible for animal health and welfare, in order to find out which airports they can travel out of under this scheme. Your pet will be placed in its carrier in a special animal hold on board the aircraft which is located underneath the passenger deck. The hold is heated and pressurised throughout the duration of the journey and it remains unlit throughout the flight which helps the animals to relax and to sleep. You can buy specially fitted carriers for this purpose. They are usually tailor made to ensure that the carrier is large enough for the animal to stand up, lie down and move around in relative comfort and all of these carriers can accommodate water and food which the airline will refill if you're on a particularly long journey with stopovers.
It's unusual for a vet to recommend that a pet is tranquilised before a flight. It can actually do more harm than good. In fact, it's usually the owners who become far more fretful than the pets themselves who usually travel fairly well and get easily accustomed to their new temporary surroundings. They'll obviously be overjoyed to see you at the other end of the journey but, with over a million pets flying worldwide each year, they present very few problems. Obviously, they'll be checked over before they fly by a qualified vet and if they're deemed unfit to travel for any reason, they'll be transported at a later time. And, once you reach your destination, you can rest assured that your pet will have disembarked the aircraft and will be in safe hands waiting to be reunited with you, while you're still waiting for your baggage to come off the aircraft as live animals are always removed from the aircraft first.
Useful Tips
Probably the best tip to ensure your pet has a smooth journey before you travel is to have it get accustomed to its carrier first. To help you achieve that, put in a blanket and perhaps a couple of soft cuddly toys whose smell is familiar to your pet as this will acclimatise them to the carrier more readily.
You can find out lots more about moving overseas with your pet on the internet and if it's a pet other than a cat or a dog, then there will be resources online to help you further. Additionally, there are a number of companies in the UK who specialise in relocating pets abroad who can take over many of the stresses and strains and organisation of pet relocation and also offer you advice and reassurance as well as taking care of all of the necessary arrangements.
You might also like...