Get Property Ready to Rent: Interview With a Letting Agent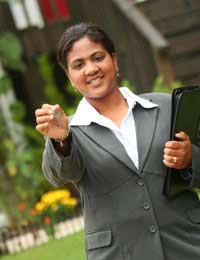 Mike White and his son Matt own the Norwich franchise of Martin & Co, winner of this year's National Letting Agent of the Year Award. Martin & Co was established in 1986 now has over 160 branches throughout the UK.
Q: What kinds of properties do you let out?
A: We let the whole range of property types. From city centre one bedroom flats through to executive country properties. Our only requirement is that they must be of a high standard since we aim to provide our landlord clients with the best possible return on their investment and our tenants the best home their money can rent them.
Q: Do any of them belong to people who have moved abroad or to another part of the country?
A: Yes, we have a number of "absentee" landlords for whom we provide a high quality specialist management service. This year in particular given the recession, we have seen a large number of people become reluctant landlords, either desperate to move on or move abroad, they have resorted to letting their unsold property until the sales market recovers. We aim to show them that becoming a long term landlord actually could be the sensible way forward.
Q: Is letting out a property a good solution for someone who is relocating but doesn't want to sell?
A: Definitely. A property will deteriorate quickly if unlived in and can become a target for burglary and squatters potentially. Also, left empty, you still have the bills and the mortgage to pay. Selling makes no sense if you're either in negative equity or having to sell below purchase price. Whereas, letting and covering all expenses until the market recovers gives you a good chance to come out "whole."
Q:Which properties are particularly suitable?
A: Any and all, provided they are in good condition and appropriately priced (in terms of the amount of rent being sought).
Q: In terms of decorating what needs to be done to make a house suitable for rental?
A: Basically, the more neutral everything is the better. Tenants want (and can achieve) good quality flooring, modern kitchens and bathrooms, tidy gardens etc.
Q: Is it best to let a house furnished or unfurnished?
A: It depends on what it is and where it is (and to an extent the time of year). A one bedroom flat is more likely to be let quickly and easily if furnished, whereas unfurnished would be more appropriate for a three bedroom family house.
Q: If furnished, what sort of furniture should you leave?
A: This does depend on the type of property to be let. It does however, require to meet certain legal standards and be in good condition. Remember tenants have plenty of choice and, quite rightly, will not accept tatty furniture.
Q: What condition should the exterior of the house be in?
A: As with the interior, it is best to make the property look the best it can be. Quite simply, the better the condition, the better quality tenants you'll attract, the better the rent, the better they'll look after it and the better they'll hand it back when they leave.
Q: What certificates, safety checks or standards are required in order to let a home?
A: The legal position is that you have to provide a fit and habitable abode for your tenants and this is enshrined by statute. However some of the measures required are mandatory, others are not. Broadly, you'll need, a gas safety certificate, an electrical safety check including appliance PAT testing, an energy performance certificate, Fire Safe furnishings, etc, and ensure you conform with fire safety and general health and safety measures.
Q: Are there any other legal obligations for someone letting out a property?
A: Yes, these are usually enshrined in the underlying tenancy agreement. You need also to consider things like having the proper type of insurance in place. The security deposit taken, to cover any damages etc., needs by law to be held in one of the three government backed schemes.
Q: Why might it be beneficial to use an agent?
A: Whether you're a seasoned landlord or a lettings virgin, using a good professional lettings specialist will be beneficial. But beware, the term "letting agent" is like the word "restaurant" – it can be Joe's Caff or Le Gavroche and it is best to make your selection carefully. Martin & Co won its national award this year based entirely on the feedback of its clients - over 30,000 landlords throughout the UK voted. A good agent will not only be able to find you appropriate tenants quickly, they will be able fully and comprehensively reference those tenants for you, put in place a best practice tenancy agreement, organise the various safety checks using properly qualified contractors, arrange for a fully independent inventory to be undertaken and then provide a high quality cost effective management service on an ongoing basis.
You might also like...