We Changed Our Décor to Sell Our Home: Case Study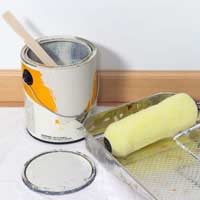 Ian Scott and his wife had always loved strong colour but they realised that if they wanted to sell their house they would have to change it. So it was out with the purple and in with the antique white.Ian said:
"The first rule of selling your house is to paint away all the strong colour. It's well known that colour changes the shape and feel of a space but perhaps even more importantly than that, there are some colours that some people just don't like.
"Having said that, however, it was a wrench for us to do away with all the vivid shades we had in our house. We loved our colour schemes and had to keep reminding ourselves that this wouldn't be our house for much longer – and that once we moved we could splash the paint of our choice about again!
Changing Rooms
"The first room we started with was the dining room. That had always been a lovely rich, terracotta shade. We had a rug in there of the same colour and some pieces of pottery to match. But the warm earthy shade did make the room feel small, so we painted over it with a very light slate grey, which we teamed up with antique white on the paint work. It was a transformation!
"We kept hold of the light shades and decided to use them in the sitting room too. This had been a dark racing green. On the floor of this room we had a Kelim rug in dark red, aubergine and black. This room had always felt cosy and welcoming but once the green had gone and the light grey came in, it became a cool open space.
"It would have been easy to leave the dark rug, throws and candlesticks we had in this room but we decided to go all the way with our changes. We carefully rolled up the carpet and packed all our beloved belongings away, and then threw a cheap, cream rug on to the polished floorboards. It might not have been to our taste but I could see how this room now had far more widespread appeal.
"Next to be tackled was the hall. This was a beautiful shade of deep plum. It reminded me of red grapes, a deep, inviting purple. But again it had to go. People had often commented on how dark this part of the house was and painting it in a biscuit oatmeal shade certainly did the trick. It also helped with the flow through the ground floor of the house, bringing a sense of continuity between the spaces.
"Upstairs, we decided viewers would just have to live with the pink and blues of our children's bedrooms but we did concede to changing the bathroom and our room. Out went the clay red walls of our bedroom, and in came a light coffee shade, once again teamed up with off-white paint work.
"Finally, we took our paint-brushes to the dark blue bathroom. The tiles in here were white anyway so all we did was paint over the midnight blue walls with a light duck egg shade. Just a few hours work really.
"Soon our friends were admiring our new colour scheme. Viewers were equally complementary and within two months we sold our house. We knew the light colours weren't really us – and we have already started replacing the magnolia of our new home with burnt orange and sage green. But what we liked wasn't important. What we had to do was achieve a sale – and all that took was a few days with a paintbrush."
You might also like...