We Built a House in France While in the UK: A Case Study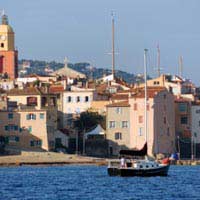 Alison Shaw had dreamed of owning a house in France. Now it has become a reality because she and her husband Pete had one built in the Ardeche – while they were still living in Britain.
Building Our Dream House
Alison said:
"It wasn't a dream I ever thought would come true, to be honest – having my own home in France. But it has become a reality, although I guess not in the way I had ever imagined.
Pete and I are not well off but one day I got in from work late and he'd been watching one of those property programmes on TV. "I guess we could do it, you know," he said. "We could buy a house in France. If we remortgaged ours and took £25,000 from the equity we should be a able to buy a run down cottage in the Ardeche. I've just seen a show where someone has done exactly that."
I've always loved the Ardeche. In fact, I've always loved France. So we did it. We remortgaged the house, put our money in the bank and roped in the grandparents to look after the kids. Then, having lined up numerous appointments on the other side of the Channel, headed off on our budget flights.
While it was great fun, we quickly realised the whole house buying process wasn't going to be as simple as we'd thought. Firstly, anything we could actually afford had too many draw backs – no garden (or outside area at all), not close to the river or too much work.
Secondly, as we spend weekend after weekend scouring the countryside the "too much work" problem gained significance. Renovating derelict houses can be hard at the best of times, and a drain on your resources – but doing it while you are actually living in a foreign country suddenly seemed less attractive than we had initially thought.
We voiced our concerns to an agent in France who said to us: "Why don't you buy some land and then build on it later?" This wasn't something we'd considered but we decided to look. After a couple more trips we found the perfect place. It had stunning views of the river, was well within our budget and came with a "certificat d'urbanisme" (outline planning permission to build a house).
The purchase of the land didn't quite go as smoothly as we'd hoped. We were almost on the point of boarding a plane to head to France to sign the final documents when we had a call from the "notaire" – the legal person who overseas any sale or purchase. He'd discovered the so called "owner" of the land wasn't in fact the only owner – and he hadn't told the other members of the family, who also had shares, that he was selling it!
We wrote him a stern letter from the UK, giving him two months to sort it out. If he didn't, we threatened, we'd pullout.
It all came together in the end and the following summer we bought a rickety old caravan, towed it over to the Ardeche, and holidayed on our "terrain."
We loved camping but still wanted to build and as the planning permission that came with the land didn't last for ever, we knew we had to start the building process. So we remortgaged again and crammed a few meetings with builders into another weekend.
Eight weeks later, two of them still hadn't bothered to send quotes and we'd chosen a builder from the three who had. We made a return trip and sat down with their architect to work out exactly what we wanted.
From the beginning the idea had been to build a house that looked very traditional, and was in local stone. We came up with plans for a very basic three bedroom, two bathroom cottage. It took a while for the full planning permission to come through. Then after a lull of what seemed like months (during which time the builders managed to avoid my calls, faxes and emails whenever they didn't want to talk to me…) work began.
At every stage of the build we had to make another payment. So this was when one or other of us went over to inspect the work. We were very pleased with what they were doing – but costs did escalate and we did have to remortgage yet again (luckily this was when house prices in the UK were rocketing).
A year later, the house was finished. Travelling backwards and forwards had been hard work but well worth it. The builders had been tricky at times and the main issue with not being on the spot was that they could hide from us whenever they didn't want to explain a delay (probably because they were on another job). But now we have a lovely house in France. It's basic but it's ours. All we have to do now is furnish and decorate it – and again somehow we will have to do that from the UK too….
You might also like...