Organising Unpacking in Your New Home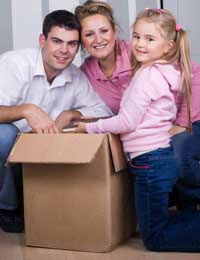 It would be great to feel that as soon as you've moved into your new home things would all be taken care of and the pressure and stresses would be relieved but there's still one final preliminary task to undertake – the unpacking. And, whilst you may not feel that it's important to do all of your unpacking straight away, you won't want to be coming across unopened boxes 6 months down the line so it helps if you're organised.
Make Time for Unpacking
Some people book maybe up to a week off work to organise all of their unpacking and this is probably the most sensible approach if you're able to do that. However, for many of us, we simply have to make do with using evenings and weekends to get things straight in our new homes and, although this will take a little longer, it can still be achieved relatively stress free with a bit of organisation. The first things to unpack should be those essential items.
Essential Items
What might be deemed 'essential' for one person might be very different for another so all the occupants will probably want to have their own box marked 'essentials' which each of them can individually unpack. There will also be certain essential items which will be common to all members of the household. These will include certain kitchen items such as kettles, coffee makers, toasters, crockery and cutlery etc and bathroom items such as razors, toothbrushes, deodorants, other toiletries etc and these boxes should be unpacked first. Bedroom linen is also another box which you'll want to be unpacking straight away.
Unpack Room By Room
It simply doesn't make sense to just unpack by opening each box as you come across it as you'll find that you end up running around and up and down stairs from room to room unpacking each room a bit at a time which will turn into a long-winded process. It's far better to have organised and marked up all of your boxes by indicating on the box which room it belongs to then for each person to unpack boxes according to which room they belong to.
Obviously, younger children will only be able to help so much if, that is, they're not considered more of a hindrance than a help and, in those situations, you might also find it easier if you can make arrangements for younger children to stay with relatives whilst you go through the rigmarole of unpacking. If, on the other hand, your children are teenagers, it often makes sense to begin unpacking with each bedroom first as it's these rooms where older children can usually be left to get on with their own unpacking as most of the items will be their own personal belongings. Furthermore, by allowing children to unpack their own bedrooms, it does give them a sense of having a bit more of a 'stake' in their new home.
Assembling beds, getting the kitchen unpacked and sorting out other key items of furniture would usually be done first along with the essential items boxes. Once all this is done, then you can move on to all of the non-essential (though enjoyable) items such as unpacking and reconnecting things like the computer, hi-fi system etc.
Some people will, of course, have different ideas as to what needs to be unpacked first but, as a general rule of thumb, getting it done room by room means that it's likely to take you less time and will prevent you having still only partially unpacked rooms a few weeks after you've moved in.
You might also like...