Moving into Shared Accommodation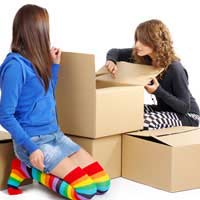 Moving into shared accommodation is very different than moving into your own place or with your partner as you may not know the person all that well if at all. Hopefully, you'll have spent some time with them before you actually move in and, as they may have interviewed other prospective tenants as well as you, the chances are that they think you'd be a good 'match' and you'll have thought similarly about them too.
The important thing to remember is to consider each other's own privacy and personal boundaries, standards and to accept that everybody is different and that each of us have our own ethical and moral values. It's always important that you get off on the 'right foot' and that you discuss issues such as the division of chores, rules about friends or partners sleeping over etc. before you move in so that you'll avoid any misunderstandings later.
Moving Your Possessions In
Make sure that you don't take everything but the kitchen sink with you when you move into shared accommodation. You need to ensure that you leave enough space for your roommate's belongings and that the new arrangements feel like 'home' for both of you. Whilst it's all very well to bring any item you want into your bedroom, don't overburden communal living areas with your belongings so things like personal photographs on the mantelpiece are a 'no-no' unless there's room for both yours and your roommate's treasured photographs.
Chores
We all have different concepts about what we consider to be clean, hygienic and tidy and some of you may have always had somebody to wait upon you hand and foot but, in a sharing accommodation situation, it's important that you quickly realise that chores don't get done by themselves and that you're going to have to muck in. You should sit down and draw up a list of chores whereby each of you know who's responsible for what. This needs to be fair for each of the occupants. Major issues to consider here are things like who's going to be responsible for things like cleaning the cooker, the bathroom, doing the vacuuming, cleaning the windows, emptying the bin, doing the garden etc. If you both agree, you should draw up a rota which changes each week so that each of you gets a turn at doing everything.
Showing Consideration
People are all unique with their own little habits and ways of doing things but it's important that you don't try to impose your values on the way that everything should be done around the house. You also need to determine what is and isn't communal property. This might mean having separate compartments in the fridge or freezer, for example, or labelling food items or having your own cupboard space. Alternatively, you may all decide that it's easier to chip in to the food bill together and then there are no issues over who's eating what. If you're intending to invite friends to stay overnight, show courtesy and tell your roommate first – no one likes to wake up of a morning and find a stranger in the bathroom!
Personal Space
Show some common decency in respecting each other's personal space. Be wary of playing your music too loud and always knock on a closed bedroom door before entering. Remember, too, that a quiet mood may not necessarily be a bad mood and that sometimes you may have had a great day but your roommate might not have.
Taking an Inventory
It's a good idea to take a written inventory of all the items you are bringing into the accommodation. Keep serial numbers of expensive items and keep a record and receipts of any purchases you may have bought together. Smaller items such as CDs and DVDs should be labelled with your name on so they don't get mixed up with your roommate's. On that note, you should also work out which items can be used by your roommate and which can't. For example, you may be happy to let them watch your TV but may not be so keen about letting them use your laptop. Make it a priority to discuss which items can be shared and which are off limits.
In essence, shared accommodation is about fairness, respect and consideration. You should always try to ensure that each of you understands what's expected from the other from the outset and never compromise each other's trust or safety.
You might also like...