Getting to Know Your New Neighbourhood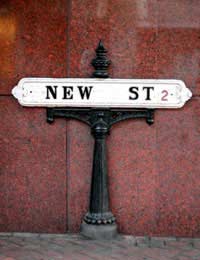 Moving to a new home is a very exciting time but it can be daunting too. Initially you'll be so busy with all of the packing and unpacking and settling in to your new place that you won't have time to think about anything else but once things have settled down, no doubt you'll start to think about some of the friends, neighbours and familiar places and routines you've left behind and will need to start over again. It's important that you try to get out of the house in the first couple of days. You don't need to unpack every single box straight away. As long as the basic essentials have all been unpacked and you're comfortable, you should be looking to get out and about and meet new people and enjoy new experiences as soon as possible.
Being Seen Outside
Even if it's just a case of pottering around your front garden or hanging the washing out to dry or walking to the nearby shops, make sure that you're visible outside your four walls within a day or two of moving in. Unless they're nosey, neighbours will not knock on your door for fear of disrupting you as they'll think you'll be busy with unpacking and need some time to settle in but by being outdoors, you're opening yourself up to the possibility of meeting people and establishing some kind of rapport with your neighbours and others within your new community.
Children and Sports
Your children will also want to make new friends so enrolling them into some kind of local sports team or hobby club will not only help them to mix more quickly, it will also give you an opportunity to meet the parents of other children and widen your social circle.
House Warming
You may not be the sort of person who wishes to throw open their doors and invite everybody to a housewarming party and there's nothing wrong with that. But, it may be a good idea, once you've settled in, to perhaps, invite a couple of the nearest neighbours around for coffee. It's an easy way to introduce yourself, doesn't take a lot of effort or preparation and will enable you to feel part of your neighbourhood more quickly.
Be Proactive
Although it's not as easy as it was in the 'olden' days when most communities would have several local shopkeepers on their doorstep, there will usually be some kind of local store and, if so, get familiar with the shopkeeper. They're often the best sources of information about what's going on in the area. Alternatively, visit your local community centre. They are a good opportunity to find out what kinds of events are going on and you'll also get the chance to meet other community members. Maybe you'll see a poster advertising an event which might just happen to feature one of your favourite hobbies or pastimes. By going along to that, then you're bound to make even more friends. Your local library will also be a good source of similar information. If you have a dog, you'll need to take it for a walk so use that as an opportunity to get your bearings in order to become familiar with your new surroundings. You're likely to bump into some other dog owners which is a great opportunity to stop for a chat. What's more, if you tell people you're new to the area, they'll often be more than happy to stop a while and tell you all about it, places to go to, interesting things to see and perhaps, even tell you about places not to venture to at all!
Use the Internet
Once you've got a few new acquaintances you should be up and running but doing a bit of research on the internet about your new town, city or village will often throw up many more ideas for you to try all, of which will help you to settle in to your new home more easily. Finally, take gentle steps. You don't need to treat this move as a completely new alien beginning for you where you've burned all your bridges and need to start again. You've still got good friends elsewhere whom you should still keep in contact with. Just because you've got a new future ahead of you, that doesn't mean you need to forget the past completely.
You might also like...